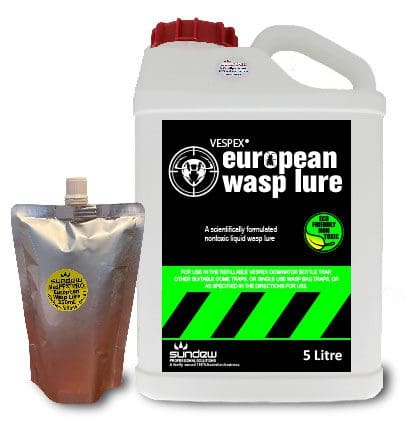 NAME:
Sundew VESPEX European Wasp Lure
PRODUCT TYPE:
European wasp liquid lure attractant
FORMULATION TYPE:
Liquid lure
PACK SIZE:
250mL Foil Pouch & 5L Bottle
MARKET SEGMENTS:
TRAPPING
For use in bottle, bag or suitable insect traps to lure wasps into the station where they are unable to escape and drown in the liquid.
REMOTE BAITING
For mixing with a Sundew EnsnarePRO 50 SC indoxacarb insecticide to form a toxicant bait for remote baiting of nests when their location is unknown.
SDS
TRAPPING BROCHURE
Remote Baiting Brochure
Accreditation Application
TRAPPING WITH VESPEX EUROPEAN WASP LURE
VESPEX European Wasp Lure is a specially formulated, non-toxic liquid lure which is attractive to European Wasp (Vespula germanica), but NOT to bees. Suitable for use in wasp dome traps, bottle traps, disposable wasp bags or other suitable traps where insects enter and are unable to escape.
Key Features:
Eco friendly
Non-toxic pesticide free
Scientifically formulated attractant irresistible to European wasps
Attractive to European wasps, not bees
Use early Spring to catch emerging queens
Use in Summer months of high activity to trap active wasp populations
Convenient and easy to use
Pet and people safe
Important Note Regarding Colour Change in Lure When Exposed to Sunlight
It is not unusual to observe a change in colour of the VESPEX European Wasp Liquid Lure from its normal reddish colour to clear.  This is the affect of the sun bleaching the colouring in the liquid lure. 
This change in colour can occur within 24 hours, or take even longer when the traps are located in shaded areas.  A change in colour has no affect on the effectiveness of the product.