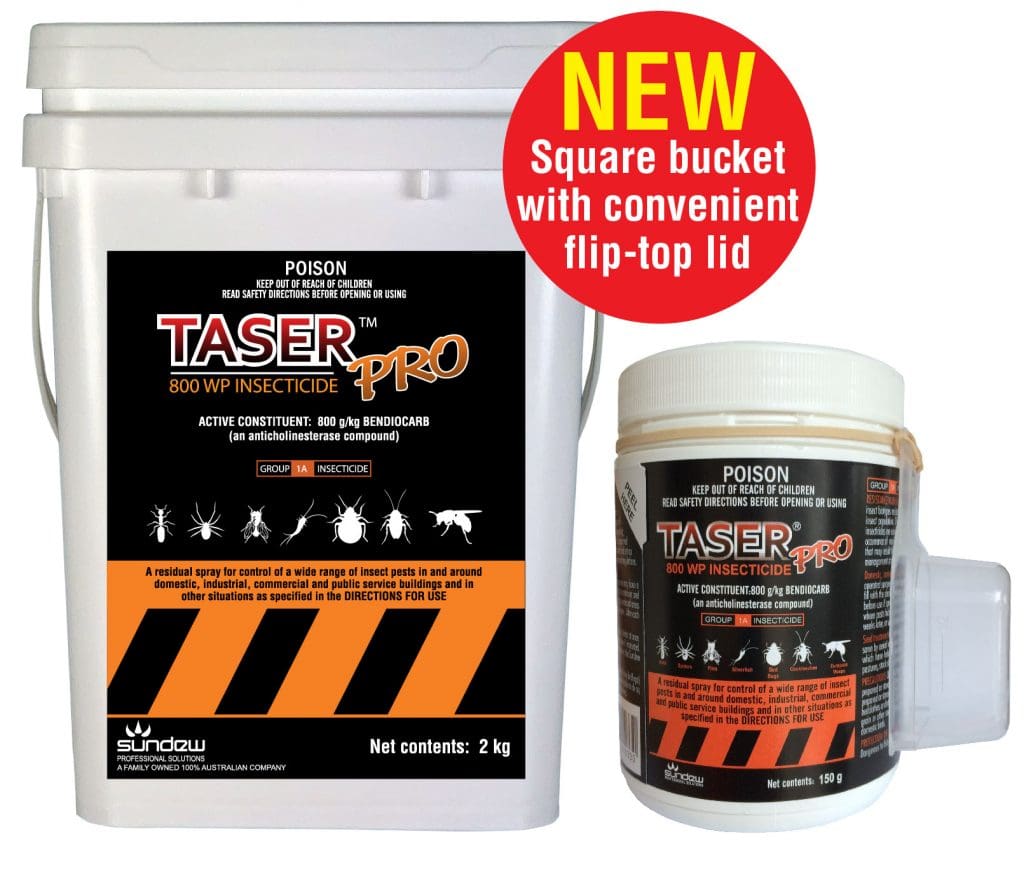 NAME:
Taser PRO WP
PRODUCT TYPE:
Insecticide
ACTIVE INGREDIENT/S:
800 g/kg Bendiocarb
FORMULATION TYPE:
Wettable Powder
PACK SIZE:
150 g and 2 kg with handy measure scoop included
MARKET SEGMENTS:
Ants, bed bugs, carpet beetles, cockroaches, fleas, spiders, silverfish, Black Portuguese millipedes, European wasps, flies (common housefly, stable fly, brown blowfly, European green blowfly, lesser housefly), Seed harvesting ants, and African Black beetle.
SDS
Label
Declaration
Technical Bulletin
ALL ABOUT TASER PRO WP 800
Taser PRO is a residual broad spectrum NON-REPELLENT spray for the control of a wide range of insect pests in domestic, farm, agricultural, industrial, commercial and public service buildings.
Potent active ingredient
TaserPRO contains the powerful active ingredient bendiocarb in a highly concentrated 800 g/kg wettable powder formulation.
TaserPRO – use with confidence
TaserPRO is a non-repellent insecticide with the broadest pest claims on the Australian market.  This makes TaserPRO an essential tool in the professional pest managers arsenal.
TaserPRO can be applied to any surface which is not damaged by water alone.  TaserPRO will remain active for many weeks at the normal rate, and greater residuality will be achieved at the special rate.
FEATURES AND BENEFITS OF TASER PRO:
Non-repellent formulation
Provides prolonged residual insecticidal activity
Wettable powder formulation
Photo-stable for improved stability in outdoor situations
Not absorbed into porous surfaces to improve long term efficacy
Contains no oil or solvent to damage surfaces
Biodegradable for low risk of environmental contamination
The broadest label of insect claims for a non-repellent insecticide
Carbamate active ingredient for resistance management
Wettable powder larger particle size for excellent residual control
Available from Sundew Solutions, a Family company 100% Australian owned and operated!
BETTER PERFORMANCE.  BETTER VALUE.