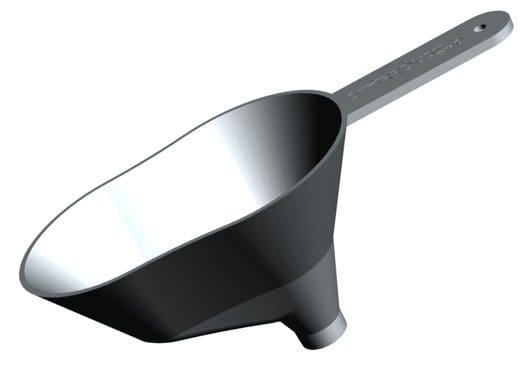 NAME:
STARRDUST 'SCUNNEL' (SCOOP/FUNNEL)
PRODUCT TYPE:
SCOOP/FUNNEL FOR DECANTING INSECTICIDES
FEATURES AND BENEFITS:
High Density Polyethylene (HDPE) construction
For use decanting liquids, dusts, granules, baits, wettable powders, wettable granules, insecticides, herbicides, fungicides, etc
Purpose made chemical decanting tool
Made in Australia from Australian recycled plastic by an Australian owned Family business
100% Designed and Invented in Australia
The Scunnel from START to FINISH

The StarrdustPRO Scunnel was invented and designed by David Priddy, CEO of Sundew Solutions.  CAD drawings were done by a local family owned design company.  Rapid Prototypes were created and supplied by a local family owned provider.  Tooling for the dies was done in Australia by a local family owned company.
MADE IN AUSTRALIA
The injection moulding of the finished Scunnel is done by a local family business using 100% recycled Australian plastic.  It doesn't get any more Australian than that.
THE STORY OF THE 'SCUNNEL' (SCOOP/FUNNEL)

The StarrdustPRO Scunnel (Scoop/Funnel) is an invention of Sundew Solutions.  No other dust product in the world provides such a unique tool to aid the pest management professional in decanting dust from bucket to equipment.
In fact no chemical manufacturer of dusts in Australia provides any tool to help pest managers decant insecticidal dust from drum to equipment.
The Scunnel tool enables the universal filling of all current equipment (hand puffers and power blowers) using an industry standard tool.
Presently in the industry there are no such tools as the Sundew Scunnel provided by suppliers of insecticidal dusts.  Pest management professionals have had to rely on using common household utensils (such as spoons and other food handling devices) which are illegal to use for the transfer of insecticides.
As far as our research has shown, no manufacturer of insecticides dusts anywhere in the world have taken the time to provide a universal tool to pest management professionals.
Since August 2015 every bucket of StarrdustPRO comes with a FREE Sundew Scunnel to help pest managers in the most professional way when handling this product.
FREE IN EVERY BUCKET OF SUNDEW STARRDUST PRO
® Scunnel is a registered trade mark of Sundew Solutions Pty Ltd.