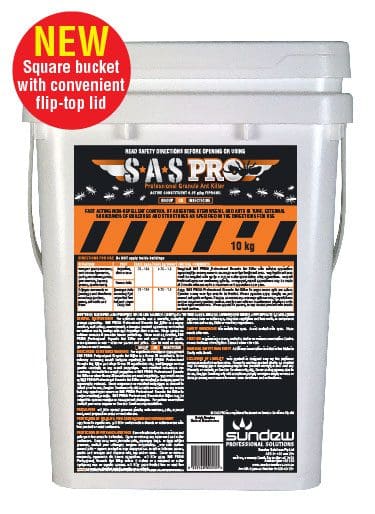 NAME:
SAS PRO
PRODUCT TYPE:
Insecticide
ACTIVE INGREDIENT:
Fipronil
FORMULATION TYPE:
Special high quality, graded silica carrier granule
PACK SIZE:
10 Kg
1 Kg Shaker
Sizes 100g to 1,000kg made to order
MARKET SEGMENTS:
For the control of Argentine stem weevil, Funnel ants, Red imported fire ants, Yellow crazy ants and all other Nuisance ants in Turf (for example lawns, commercial turf farms, parks, recreational areas, golf courses, bowling greens, sports fields etc) and external surrounds of buildings and structures including gardens, lawns and direct onto ant nests and trails as per the directions for use.
SDS
Label
Technical Bulletin
SAS PRO® Professional Granule Ant Killer
Sundew Ant Silica (SAS PRO) 0.25 g/kg Fipronil based, specially graded silica carrier granule for use in the control of Red Imported Fire Ants, Yellow Crazy Ants, Funnel Ants, Nuisance ants and Argentine stem weevil, in external surrounds of buildings and structures including gardens, lawns, ant nests & trails, and commercial turf farms, parks, recreational areas, golf courses, bowling greens, sports fields etc.
SAS PRO is Made in Australia. 
Our high grade quartz silica is sourced from Australian suppliers.  It is washed, graded and dried before shipping to the Sundew manufacturing plant in Melbourne. This painstaking process ensures the optimum particle size for consistent application of the trusted active ingredient, fipronil.  Our buckets, lids and shaker packs are supplied by local injection moulding manufacturers in Melbourne.  The labels on the buckets are printed by local family businesses using Australian raw materials.  SAS PRO is then blended using a proprietary 3 stage process.  The final premium product is then filled and assembled in Melbourne by a family owned 100% Australian business before being dispatched nationally.
KEY FEATURES:
Non-scheduled poison – safe for people, animals and the environment
No specialised equipment required to treat quickly and efficiently
No mixing, no fuss, ready to use granules
Australia's fastest way to treat nuisance ants
Targeted treatment binds to organic matter and does not move great distances in the environment
Trusted Fipronil based formulation for the treatment of funnel ants in commercial turf, and nuisance ants in domestic situations
A high quality graded silica carrier is utilised to provide optimum distribution of fipronil in treated areas
For use in external areas hard to treat with traditional sprays such as garden beds, between pavers, lawns, etc.
Each 10kg bucket comes with convenient free shaker pack for ease of application
Now also available in handy 1kg shaker pack
For best results apply along ant trails and around nests
Fipronil based granule provides total colony eradication with Sundew Smart Kill Technology™
Broad spectrum or activity
Long residual activity
Convenient ready to use granules
Ideal around sensitive areas such as schools and daycares where nuisance ants cause great distress
Custom pack sizes 100g to 1,000kg made to order.  Contact info@sundewsolutions.com.au
Now approved for treating Red Imported Fire Ants, Yellow Crazy Ants and Argentine Stem Weevil
Does not matter whether ants are sugar, protein or oil feeding preference – Sundew SAS PRO controls the lot
MADE IN AUSTRALIA BY A FAMILY OWNED 100% AUSTRALIAN BUSINESS
SAS PRO and the Tramp Ants Red Imported Fire Ants and Yellow Crazy Ants
Sundew Solutions is at the forefront in researching and developing solutions for the treatment of tramp ant species in Australia.  SAS PRO has been used with great success in targeted treatments of tramp ant species such as Argentine Ants, Red Imported Fire Ants and Yellow Crazy Ants in Australia.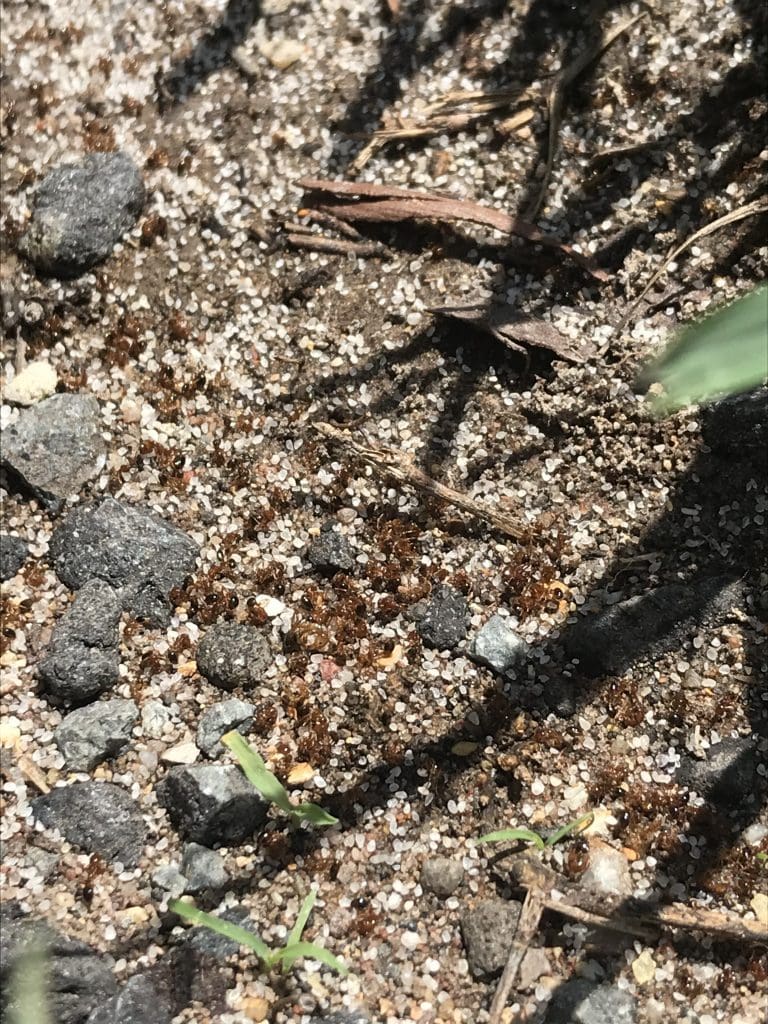 Red Imported Fire Ants – The red imported fire ant is native to South America but it has spread to Australia, New Zealand, several Asian and Caribbean countries and the United States of America. Fire ants are listed by the International Union for Conservation of Nature as one of the world's most invasive species. Pictured Left – Red Imported Fire Ants at a site in Cornubia, South East Queensland circa 2020 in a homeowners lawn treated with SAS PRO Granular Ant Killer, which when ants are exposed, is transferred back to the nest where it kills the Queen and destroys the colony.
Yellow Crazy Ants – The yellow crazy ant is a species of ant, originally from southeast Asia, that has been accidentally introduced to numerous places in the world's tropics. It is colloquially called "crazy" because of its erratic movements when disturbed. Its long legs and antennae make it one of the largest invasive ant species in the world.