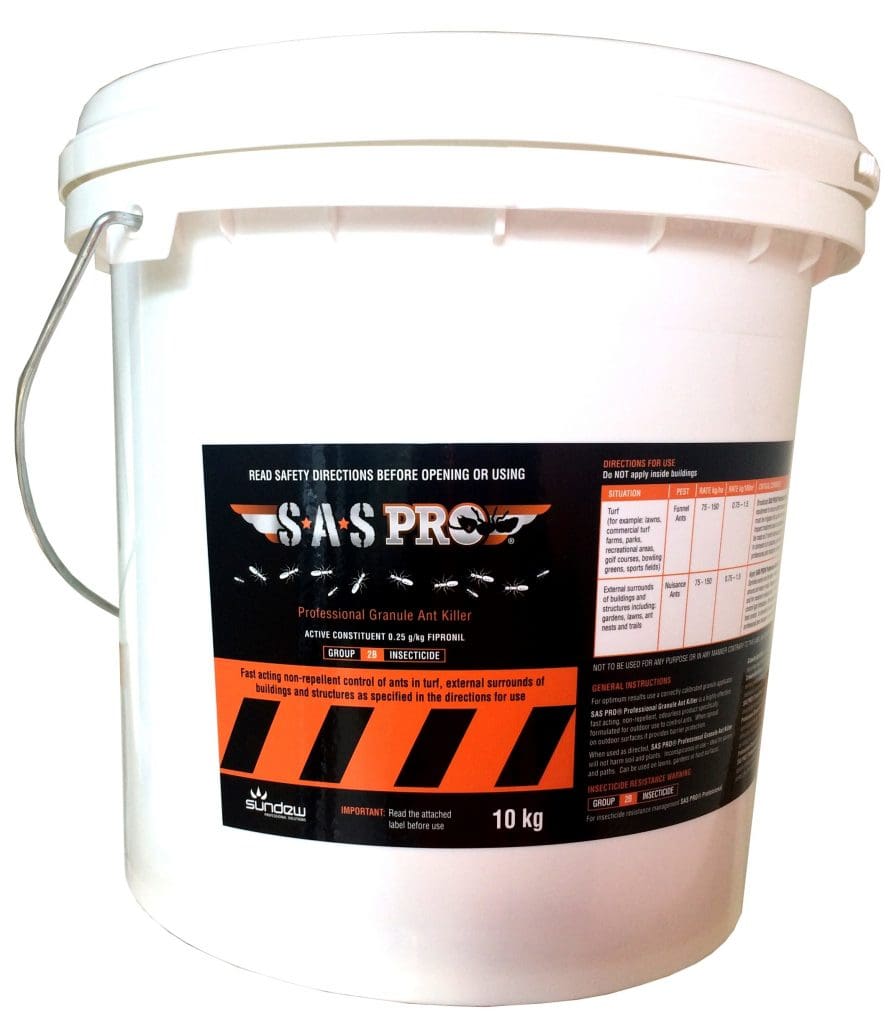 NAME:
SAS PRO
PRODUCT TYPE:
Insecticide
ACTIVE INGREDIENT:
Fipronil
FORMULATION TYPE:
Special high quality, graded silica carrier granule
PACK SIZE:
20 kg Bucket
10 Kg Bucket
1 Kg Shaker Pack
MARKET SEGMENTS:
Nuisance ants – external surrounds of buildings and structures including gardens, lawns, ant nests and trails.
Funnel ants – external surrounds of lawns, commercial turf farms, parks, recreational areas, golf courses, bowling greens and sports fields.
SDS
Label
Technical Bulletin
Sundew SAS PRO Granular Ant Killer is made in Australia and utilises a high performance custom washed, graded and dry quartz granule electrostatically coated with the potent active ingredient Fipronil – a devastating ant control molecule.
SAS PRO Granular Ant Killer is a non-repellent residual ant solution that is not detectable by ants.  Nuisance ants come into contact with the granules and unwittingly pick up Fipronil particles on their bodies.  Through trophallaxis (social interaction) the Fipronil is transferred back to the nest resulting in total colony elimination.  SAS PRO kills the workers, larvae and Queen.
Key Features:
Non-scheduled poison
Specifically targets ants
Non-repellent technology
Transfers back to the nest for colony elimination
Made in Australia by a family owned 100% Australian business
Effective on all species of ants