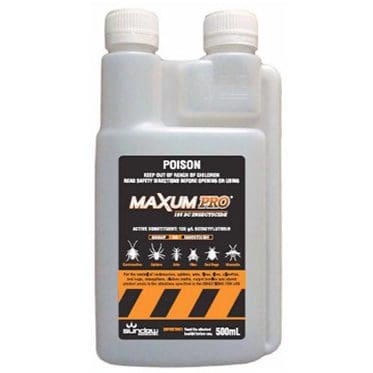 NAME:
MaxumPRO
PRODUCT TYPE:
Insecticide
ACTIVE INGREDIENT/S:
beta cyfluthrin
FORMULATION TYPE:
Suspension concentrate
PACK SIZE:
500 mL
MARKET SEGMENTS:
Bed bugs, cockroaches, spiders, ants, fleas, flies, silverfish, clothes moths, carpet beetles, mosquitoes, and stored product pests.
SDS
Label
Declaration
MaxumPRO® 125 SC Highly Concentrated Insecticide 
A superior suspension concentrate with unsurpassed dispersion in water containing 125 g/L beta cyfluthrin for use in the control of pests by professional pest managers.  Guaranteed NOT to sediment in the original container ensuring a premium quality product to the professional pest manager.  The purified beta cyfluthrin active ingredient gives maximum efficacy across a broad range of pests, indoor and out.
Key Features:
Broad spectrum of activity
Highly purified active ingredient
Robust suspension concentration formulation
Highly concentrated
500 mL bottle makes up 125 litres of full strength solution
Easy to measure dosing pack
No odour
No stains or visible residues
Can be used indoors and outdoors
Good flushing action
Non-flammable
Stable in sunlight and on alkaline surfaces
Effective against most domestic and commercial pests
Fast knockdown
Long residual activity
No storage or transport problems
Patented Transigel Rheology System™ (TRS)
Available only to professional pest managers
MaxumPRO® carries the Sundew Solutions unconditional replacement guarantee if the product shows any sedimentation in its original container!