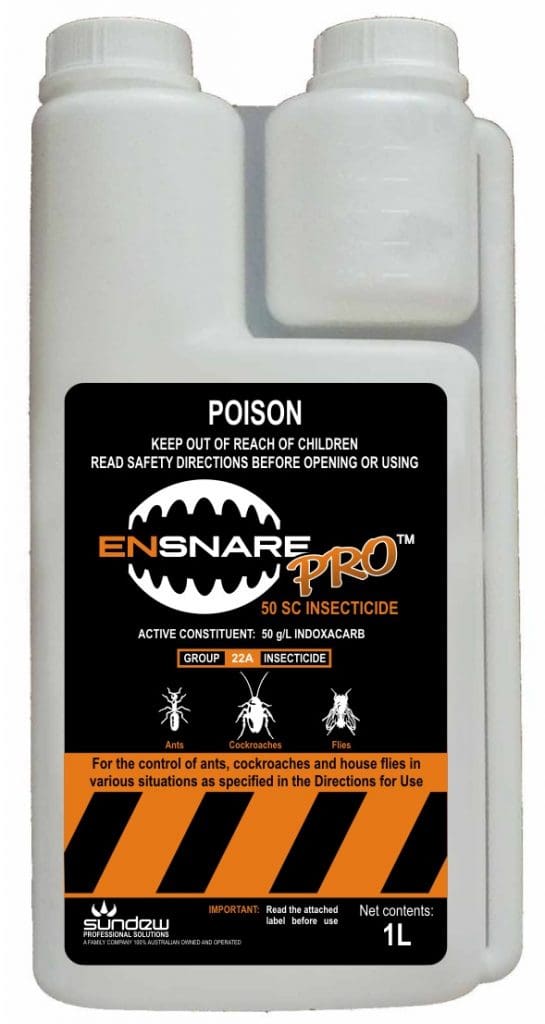 NAME:
EnsnarePRO
PRODUCT TYPE:
Insecticide
ACTIVE INGREDIENT:
Indoxacarb
FORMULATION TYPE:
Suspension Concentrate
PACK SIZE:
1 L
MARKET SEGMENTS:
For the control of ants, cockroaches and house flies in the various situations as specified in the Directions for Use.
SDS
Label
Declaration
Technical Bulletin
EnsnarePRO is a non-repellent residual suspension concentrate spray.  It can be used in conjunction with baits without reducing the performance of the bait. Ants, Cockroaches, and flies don't know it's there. The 'non-repellent' properties of this formulation do not interfere with insects natural behaviour and allow for greater exposure (and thus uptake) to eradicate hard to control populations. EnsnarePRO is exceptional for the control of heavy cockroach infestations in commercial and other situations.
Key Features:
Indoxacarb 50 g/L
Suspension Concentrate formulation

Smart Kill Technology

™

Unique Controlled Particle Technology (CPT)
Unique Transigel Rheology System (TRS)
Non-repellent residual spray
Non-staining
No odour
Residual spray up to 6 months control
With the addition of sugar to tank, the mix can be used as a fly bait spray
Ideal for use in conjunction with BattleaxePRO Roach Bait Gel fipronil 0.5 g/kg
Powerful mode of action
At the heart of EnsnarePRO is the powerful active indoxacarb.  This cutting edge active is bio-activated by the internal enzymes in the gut of target pests.  This interaction with the enzymes converts EnsnarePRO into an even more effective treatment.  This bio-activation has the added advantage of a delay in mortality ensuring the transfer of EnsnarePRO to other target pests, thus providing enhanced population control.  This is very important when targeting effective control of cockroach and ant infestations.
Its Okay to Bait
Extensive field trials by Sundew demonstrate that EnsnarePRO provides excellent control of cockroaches and ants and can be successfully used in conjunction with gel baits.  When sprayed prior to application of Sundew BattleaxePRO Roach Bait Gel there is increased consumption of the gel bait.