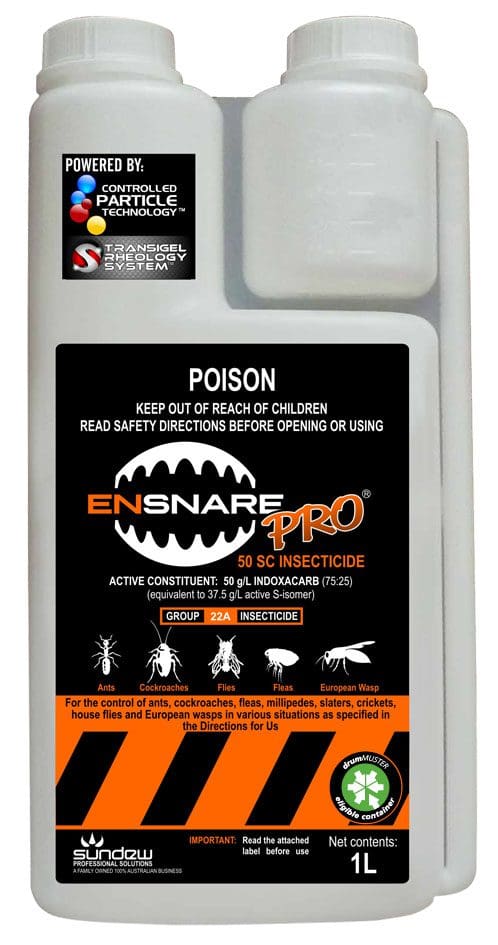 NAME:
EnsnarePRO 50 SC Insecticide
PRODUCT TYPE:
Insecticide
ACTIVE INGREDIENT:
50 g/L Indoxacarb
FORMULATION TYPE:
Suspension Concentrate
PACK SIZE:
1 L
MARKET SEGMENTS:
For the control of ants, cockroaches, fleas, millipedes, slaters, crickets, house flies and baiting of European wasps
SDS
Label
Declaration
Technical Bulletin
SEPTEMBER 2021 IMPORTANT LABEL UPDATE

Sundew is pleased to announce significant updates to the GENERAL INSTRUCTIONS on EnsnarePRO 50 SC Indoxacarb non-repellent residual insecticide.  The original label contained a very restrictive application method when applied in FOOD/FEED AREAS.  This outdated section has been totally removed.  The new updated instructions have been added to replace the old:  PRECAUTION:  Do not spray directly onto humans, exposed food, food utensils or food preparation areas.  These updates have been requested by pest management professionals across Australia and Sundew is pleased to be able to work with the APVMA to have these essential updated added.
JUNE 2020 IMPORTANT LABEL UPDATE

In addition to ants, cockroaches and flies, EnsnarePRO now has 5 important new pest claims approved by the APVMA May 2020:  crickets, fleas, millipedes, slaters and baiting of European wasp nests.
EnsnarePRO is a non-repellent residual suspension concentrate spray.  It can be used in conjunction with baits without reducing the performance of the bait. Ants, cockroaches, flies, fleas, millipedes, slaters and European wasps don't know it's there.
The non-repellent properties of this formulation do not interfere with insects' natural behaviour and allow for greater exposure, and thus uptake, to eradicate hard to control populations. EnsnarePRO is exceptional for the control of heavy cockroach infestations in commercial and other situations.
EnsnarePRO is the industries' first non-neonicotinoid, non-staining, non-repellent, odourless, liquid residual suspension concentrate product for indoor and outdoor use.
Sundew EnsnarePRO is Australia's first water based suspension concentrate specifically formulated for the professional pest segment and represents a milestone in formulation technology not available until now.
Key Features:
Indoxacarb 50 g/L
Suspension Concentrate formulation
Smart Kill Technology™
Unique Transigel Rheology System (TRS)
Non-repellent residual suspension concentrate
Non-staining
Odourless formulation
Residual spray provides up to 6 months control
Mix with Sundew VesPEX PRO Liquid European Wasp Lure to form an effective European Wasp bait for colony elimination
With the addition of sugar to the tank, the mix can be used as a sprayable fly bait
Ideal for use in conjunction with BattleaxePRO Roach Bait Gel fipronil 0.5 g/kg

Powerful mode of action
At the heart of EnsnarePRO is the powerful active indoxacarb.  This cutting edge active is bio-activated by the internal enzymes in the gut of target pests.  This interaction with the enzymes converts EnsnarePRO into an even more effective treatment.  This bio-activation has the added advantage of a delay in mortality ensuring the transfer of EnsnarePRO to other target pests, thus providing enhanced population control.  This is very important when targeting effective control of cockroach and ant infestations.  This is Sundew's Smart Kill Technology at work!


Cockroach Programs – It's Okay to Bait
Extensive field trials by Sundew demonstrate that EnsnarePRO provides excellent control of cockroaches and ants, and can be successfully used in conjunction with gel baits.  When sprayed prior to application of Sundew BattleaxePRO Roach Bait Gel, there is increased consumption of the gel bait.
Flea Treatments with Greater Confidence
EnsnarePRO gives pest management professionals an effective, non-synthetic pyrethroid flea treatment tool.  The enhanced safety profile for the technician as well as end customers is an advantage of using the trusted active, indoxacarb.
European Wasp Nest Baiting
The combination of EnsnarePRO with Sundew Vespex Liquid Wasp Lure is specifically designed to control European wasps.  EnsnarePRO contains the active ingredient indoxacarb, a powerful, non-repellent insecticide.  The slight delay in mortality caused by the active ingredient encourages European wasps to consume the liquid bait and return to the nest to contaminate other wasps resulting in a significant reduction in population levels.
Through trophallaxis, European Wasps also share the bait with reproductive members of the colony leading to queen mortality and complete elimination of the infestation.  Use of EnsnarePRO with Sundew Vespex Liquid Wasp Lure will help eliminate European Wasps within weeks of applying when used according to the directions.
To make the liquid bait, mix EnsnarePRO with Sundew Vespex Liquid Wasp Lure in a clean non-contaminated container.  Place prepared bait (approximately 25 mL) inside Sundew Vespex Wasp Tunnel.  Inspect bait placement frequently and apply fresh bait as needed.  It is recommended that inspections be carried out daily to observe bait consumption and provide adequate volumes in line with pest pressure.  All unconsumed bait placements must be disposed of at 14 days.
Please contact Rowan Gregson, the Sundew Solutions Technical Solutions Advisor on 0410 611 400 to discuss baiting for European wasp training or call 1800 786 339 or email info@sundewsolutions.com.au for further information.