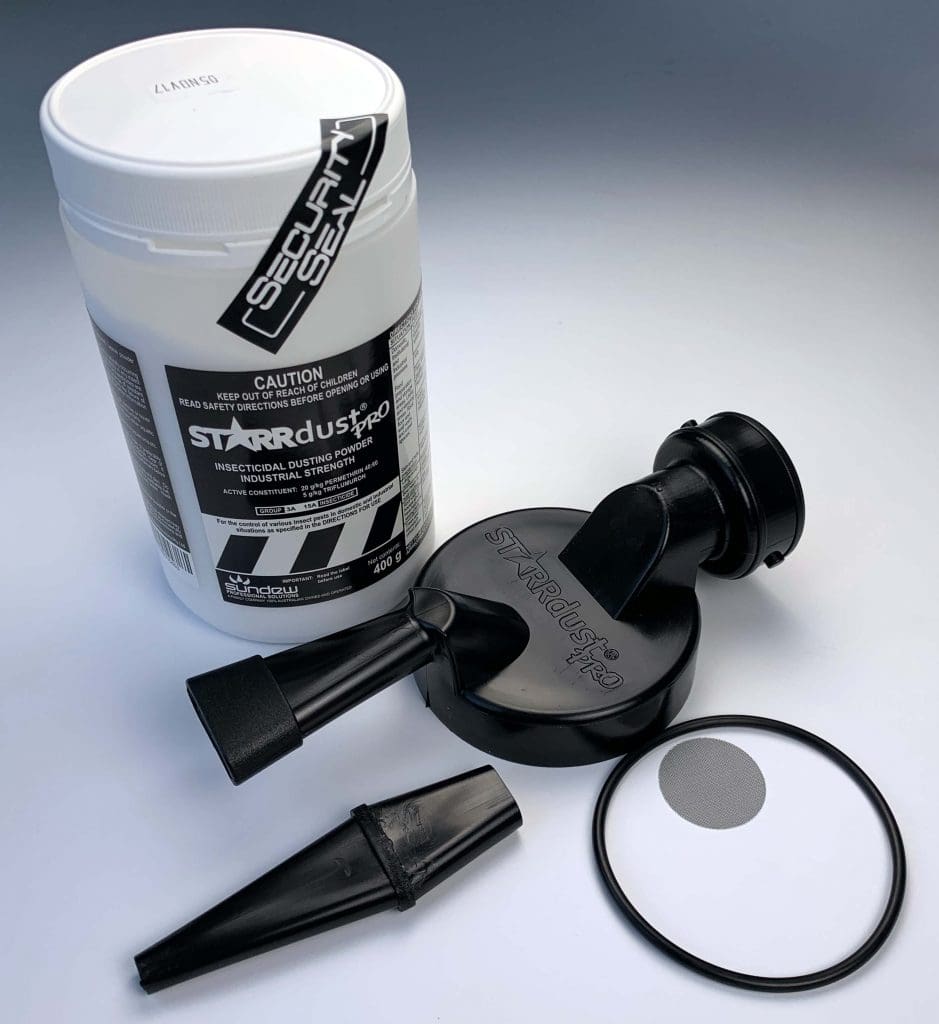 NAME:
Starrdust®PRO DUCKBILL DUSTER COMBO
PRODUCT TYPE:
DUCKBILL DUSTER with Free Starrdust®PRO 'One-Shot' 400 g
PRODUCT SPECIFICATIONS:
The Duckbill will fit onto a blower with either 40mm or 50.5mm fitting on the end of the blower (typically either a Makita or Hitachi blower or similar) 
PACKAGING:
– 1 x Duckbill Duster,
– 1 x Extension Nozzle,
– 1 x Rubber sealing O-ring,
– 1 x StarrdustPRO 'One-Shot' 400g Pod,
– 1 x (Optional fit) stainless steel flow regulator mesh
SDS
Label
Declaration
Order Duckbill Upgrade Kit For Original DuckBill
STARRDUST®PRO DUCKBILL DUSTER
The StarrdustPRO Duckbill Duster was created so that Australian pest management professionals would not have to expose themselves, their clients or the environment to inadvertent spills of insecticidal dusts as a result of decanting product into application equipment.
AUSTRALIAN FIRST
The Duckbill Duster Kit comes with a prefilled 400g Pod of premium graded StarrdustPRO Industrial Strength Insecticidal Dust.  The technician in the field simply removes the screw top lid from the StarrdustPRO 400g Pod and then threads it directly onto the Duckbill Duster head.  No spills, no decanting, no mess, no cleaning up.  It takes literally seconds to be ready to start the job.
DUCKBILL DUSTER AND STARRDUST®PRO PODS MAKES YOU MONEY
Time in motion studies in the field by pest technicians using the Duckbill Duster and pre-filled StarrdustPRO Pods have found they are able to do an additional 3 jobs per week.  This equates into higher productivity per technician in the field adding additional revenue per head count.
YOUR SAFETY
Not withstanding the point that the combination of using the Duckbill Duster plus StarrdustPRO Pods vastly reduces the operator exposure to chemical encountered during the decanting process with other products there is also a serious safety aspect.  Normally the application of insecticidal dusts is into locations requiring ladders and squeezing into all sorts of challenging locations.   This necessitates going up and down ladders, and in and out of voids in order to refill dusting equipment.  The StarrdustPRO Pod system means you can carry an extra pod in your coveralls along with the one attached to your power blower, thus reducing the risk of incident in having to go back and forth to refill.  This also equates into time savings (not having to go back and forth) saving your technicians more time – giving you the opportunity to squeeze an extra job into your day.
NEW MARK II DUCKBILL DUSTER KIT
Press Release November 2020:  Sundew Solutions Pty Ltd is pleased to announce the release of the Updated and Improved Mark II Duckbill Duster Kit.  Key features of this Mark II are:
The outlet Duckbill nozzle now boasts a more robust construction
Included in the kit is a custom rubber O-ring to provide an easier seal between the Duckbill and StarrdustPRO Pod
There is also an (optional fit) Stainless Steel mesh flow-regulator, that can be fitted to the inlet side of the Duckbill to prevent dust entering back into the blower motor of dusting units
FEATURES OF THE DUCKBILL DUSTER KIT
Universal fitting for standard Makita and Hitachi pin type blowers – the Duckbill will fit onto a blower with either 40mm or 50.5mm fitting on the end of the blower (typically either a Makita or Hitachi blower or similar)
Each Duckbill comes with an extension nozzle for attaching to hoses, conduits etc.
The Duckbill Duster was designed in Australia
The Duckbill Duster is made in Australia
The Duckbill Duster is made from 100% Australian recycled plastic
The Duckbill Duster is made from High Density Polyethylene (HDPE) – it's as tough as nails!
The Duckbill Duster is made by a 100% family owned Australian business
Construction is a single chassis body for optimum strength
Each Kit comes with a FREE 400g Pod of Premium Grade StarrdustPRO Industrial Strength Insecticidal Dust
The StarrdustPRO Pods are made in Australia by a family owned 100% Australian business
Dust like a PRO!