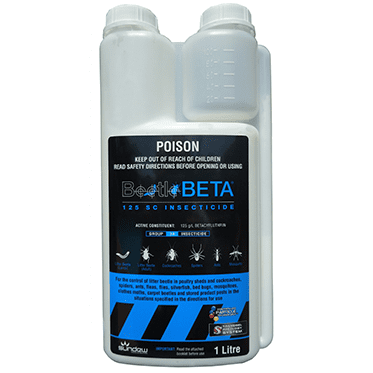 NAME:
BeetleBETA
PRODUCT TYPE:
Insecticide
ACTIVE INGREDIENT:
Beta cyfluthrin
FORMULATION TYPE:
Suspension Concentrate
PACK SIZES:
500 mL and 1 L
MARKET SEGMENT:
For the control of litter beetle in poultry sheds and other insect pests as per directions for use.
SDS
Label
Declaration
BeetleBETA is the latest formulation advancement using purified cyfluthrin to produce 'beta cyfluthrin' the NEW treatment for litter beetle in Australia.  Combined with the superior suspension concentrate and unique Controlled Particle Technology (CPT) and Transigel Rheology System (TRS) you've got a winning performer.  Developed and tested in Australia, for Australian conditions.
NEW HEAVY INFESTATION TREATMENT – 4 mL/1L water to walls, ceilings, cracks and crevices – read label for further details.
Specifically developed for the control of litter beetle in intensive poultry growing situations
Includes a broad spectrum of activity for other pests in rural situations
Highly purified active ingredient
Robust suspension concentration formulation
Highly concentrated – a little bit goes a long way
Handy 500 ml and easy 1 L pack with measuring chamber
Easy to measure dosing pack
No odour
No stains or visible residues
No messy dust formulation
No messy disposal of multiple sachets packs
Can be used indoors and outdoors
Good flushing action
Non-flammable
Stable in sunlight and on alkaline surfaces
Effective against most domestic and commercial pests
Fast knockdown
Long residual activity
No storage or transport problems
BeetleBETA® carries the unconditional replacement guarantee if the product shows any sedimentation in its original container!