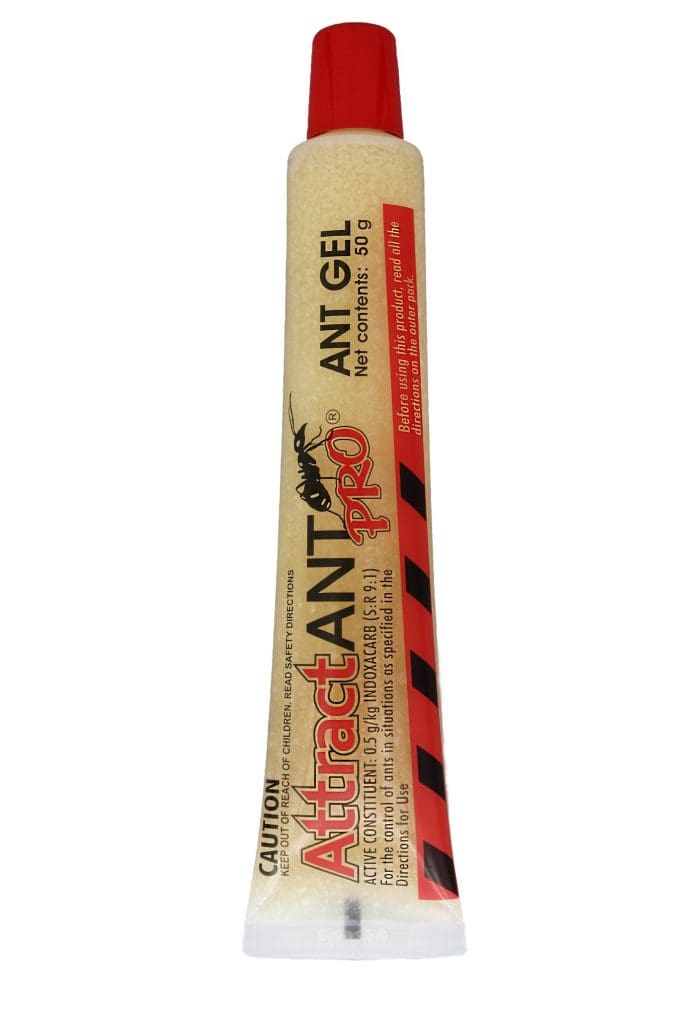 NAME: 
AttractANT PRO Ant Bait Gel
PRODUCT TYPE:
Ant Bait Gel
ACTIVE INGREDIENT:
Indoxacarb
FORMULATION TYPE:
Ant Bait Gel
PACK SIZE:
50 g squeeze tube
MARKET SEGMENTS:
For the control of major pest ants including Argentine ant, Black house ant, Coastal brown ant, Ghost ant, Hairy ant/Crazy ant, Pedicel ant, Pennant ant, Pharaoh's ant, Red imported fire ant, Sugar ant.
SDS
Label
Declaration
Technical Bulletin
Sundew AttractANT PRO Ant Bait Gel is not only the most convenient bait on the market to use, it also has unique polymer technology that gives the bait matrix superior properties.  Use AttractANT PRO to control entire colonies in residential homes, commercial and industrial settings, as well as sensitive areas like schools or nursing homes. You can be confident it will eradicate not only the ants you see, but also the ones you can't.
IMPORTANT NOTE:  THE DATE OF MANUFACTURE/BATCH NO. IS STAMPED INTO THE PLASTIC OF THE TUBE AT THE VERY BOTTOM SEAL.  THIS IS A PERMANENT MOULDED STAMP.
Superior Control of the Entire Colony
Sundew AttractANT PRO kills not just the workers, but also the queen and the colony, reducing call backs and delivering better results for you and your clients.  The unique polymer technology found in AttractANT PRO enables rehydration of the bait matrix to maintain a highly palatable and attractive treatment.  The polymer technology also allows the addition of a special carbohydrate compound (not found in any other ant gel on the market) for a more attractive and appealing bait matrix.
KEY FEATURES:
FREE sample of ANTstripz in every pack
Clear colour matrix
Unique polymer technology formulation
Unique carbohydrate additive for superior attractiveness
Odourless
Highly stable and palatable formulation
Controls a broad range of sugar feeding species
Gel locks in moisture for extended attractiveness to ants
Impacts all life cycle stages for a more effective treatment
Easy application squeeze tube
Suitable for indoor and outdoor application
No special gun or equipment required to apply
Clear tube makes it easy to measure usage of product
Kills the queen and destroys the colony
Excellent for tramp ant species such as Red Imported Fire Ants (Solenopsis invicta) and Yellow Crazy Ants (Anoplolepis gracilipes)
AttractANT PRO Ant Bait Gel and Tramp Ants, Red Imported Fire Ants and Yellow Crazy Ants
Sundew Solutions is at the forefront in researching and developing solutions for the treatment of tramp ant species in Australia.  AttractANT PRO has been used with great success in targeted treatments of tramp ant species such as Argentine Ants, Red Imported Fire Ants and Yellow Crazy Ants in Australia.