NAME:
ANTSTRIPZ
PRODUCT TYPE:
Professional Platform for Ant Gel Bait Application
PACK SIZE:
120 Bait Placements
ANTstripz are a professional polymer platform onto which ant bait gels can be applied.
ANTstripz incorporates a technology that allows them to be attached to flat smooth surfaces without tearing or leaving any residues when removed at a later date.
The Key Features of ANTstripz:
Tough polymer construction – won't tear or leave any visible residue when removed
Quick identification of where bait placements have been made to easily monitor bait consumption
Prevents loss of moisture into applied surfaces – baits remain more palatable for longer
ANTstripz have a handy measure guide to accurately apply gel baits
Each ANTstripz has an embossed, raised area to form a well to help retain liquid spread when using liquified gel baits – keeps your job looking cleaner and more professional
ANTstripz are a professional platform onto which ant bait gels are applied compared to smearing gobs of gel throughout a premises
ANTstripz utilise the same 'no glue' technology found in Pestie Dotz.  Each bait platform has hundreds of microscopic suction cups which enable them to be applied to smooth, flat surfaces such as laminates, tiles, glass, plastics etc.  ANTstripz are not suitable to attachment to porous surfaces such as concrete or gyprock.
Sundew recommends the use of ANTstripz in combination with AttractANT PRO Ant Bait Gel for a professional finish.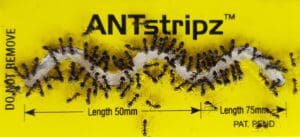 ANTstripz are recommended for use with Sundew AttractANT PRO Ant Bait Gel – Read more here>