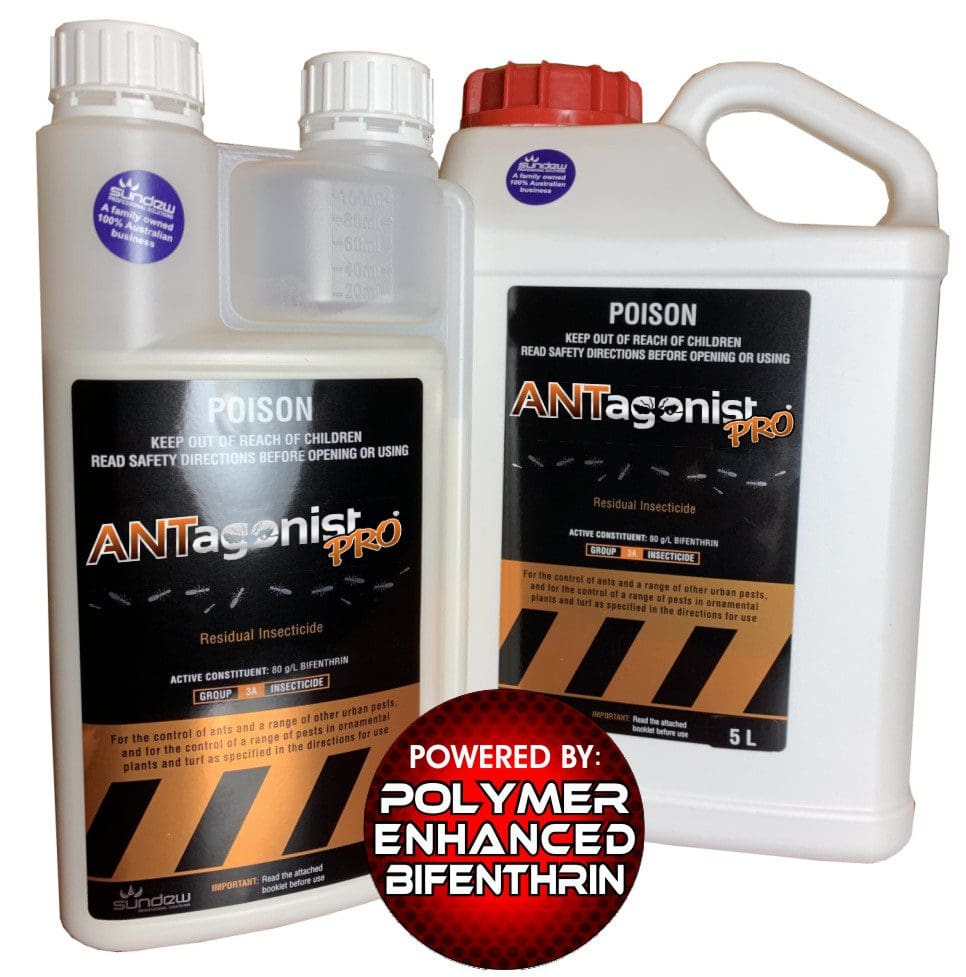 NAME:
ANTagonistPRO
PRODUCT TYPE:
Insecticide
ACTIVE INGREDIENT/S:
Polymer Enhanced Bifenthrin
FORMULATION TYPE:
Suspension Concentrate
PACK SIZE:
1L & 5L
MARKET SEGMENTS:
For the control of ants (including Red Imported Fire Ants and Yellow Crazy Ants) and a range of urban pests, and for the control of a range of pests in ornamental plants and turf as specified in the directions for use.
SDS
Label
Declaration
Technical Bulletin
APRIL 2021 UPDATE
Following extensive research and field trials in South East Queensland, Sundew Solutions is pleased to announce the approval by the APVMA to add the treatment of Red Imported Fire Ants and Yellow Crazy Ants to Sundew ANTagonistPRO 80 SC polymer enhanced bifenthrin.
ANTagonistPRO has been used in Australia and overseas by pest management professionals, turf care professionals, and Government authorities for many years for the treatment of the tramp ant known as Argentine Ants.  ANTagonistPRO has been used as part of a treatment program in overseas locations to successfully eradicate Argentine ants in national parks and other locations.  The addition of Red Imported Fire Ants and Yellow Crazy Ants is an exciting and keenly welcomed inclusion to the ANTagonistPRO label.  The advanced polymer technology UNIQUE to ANTagonistPRO will give professionals treating Red Imported Fire Ants and Yellow Crazy Ants and unparalleled tool in the successful treatment of these invasive tramp ant species.
What is ANTagonistPRO Approved for Use on?
ANTagonistPRO is a suspension concentrate formulation containing a revolutionary Polymer Enhanced Synthetic Pyrethroid approved for the treatment of:
General Pest Control Situations
Ants (including Red Imported Fire Ants and Yellow Crazy Ants), spiders, wasps, cockroaches, mosquitoes, biting midges, fleas, flies, ticks, and termites for protection of service poles and fence posts, and for the eradication of termite nests in trees, poles, posts, and stumps by flooding the nest with ANTagonistPRO.
Turf Situations
Lawn armyworms, sod webworms, Argentine stem weevil adults, billbug adults, African black beetle adults, ants (including but not limited to Black ant, coastal brown ant, funnel ants, meat ant, sugar ant, red imported fire ant, yellow crazy ant, and stinging ant.
Roses, Carnations and other Ornamental Plants Situations
Two spotted mites, aphids, caterpillars, loopers, corn earworm, native budworm, lightbrown apple moth, whitefly, poinsettia white fly, mealybug, plague thrips and cutworms in beds, containers and pots.
Key Features:
Utilises unique NEW Polymer Enhanced Synthetic Pyrethroid formulation
NOW approved for Red Imported Fire Ants and Yellow Crazy Ants – April 2021
Available in convenient 1L easy measure chamber pack or 5L bulk jerry bottle
Ideal for hard surfaces eg. concrete paths, brickwork, etc.
Stable on alkaline surfaces eg. concrete, cement board, etc.
Available only to pest management professionals
Ideal around sensitive areas such as schools and day-cares where nuisance ants can cause great distress
Registered for treatment of nuisance ants – doesn't matter if they are sugar feeders or protein feeders – ANTagonistPRO controls the lot!
Sundew field trials and real world experience recommends the use of  Sundew ANTagonistPRO Polymer Enhanced Bifenthrin on hard surfaces such as concrete, walls, driveways, posts, sleepers, ant trails, nests, etc. WITH SAS PRO applied to broken surfaces such as lawns, garden beds, between pavers, compost, ant trails, nests, etc. for season long control of all ant species in domestic situations.
Sundew SAS PRO is a fipronil based specially graded silica carrier used to treat the non-solid or broken surfaces.  Read more here about SAS PRO>>