31/05/2019 AEPMA Newsletter
"We're not surprised that such a simple concept has resulted in praise from pest management professionals across the country…" said David Priddy, CEO at Sundew Solutions.
"We spoke to pesties and asked them what their biggest issues were with existing ant bait gels, and unanimously every product had problems."
Research and development isn't just about discovering new molecules, it's about working with customers on day-to-day issues and coming up with solutions to make your life easier, more professional, and return greater revenue per technician in the field.

A survey conducted with pest technicians across Australia in 2016 identified the main issues with ant gel baits on the market:
leakage around piston in the syringe
gel baits that liquefy in tubes, giving an unprofessional application
gel baits that continue to exude from syringes
tip covers inadvertently coming off of the nozzles resulting in gel leakage into kit bags
the expense to supply and maintain guns to every technician to be able to apply ant gel
​So it is no surprise that the first comments we receive from Pesties, when they see a tube of the new AttractANT PRO Ant Bait Gel is how amazing the new packaging is.
"What awesome packaging. It's about time someone came out with something we can simply put in our pockets and use while we're on the job, I love it!" said Martin Simpson, from Acacia Pest Control in Victoria.
"It wasn't enough that we gave pest managers a simple delivery mechanism to overcome the issues experienced with syringe type products – that was the easy bit," said David, "the challenge was coming up with a formulation that didn't liquefy, stayed firm on vertical surfaces, and allowed us to add an active ingredient that was difficult to solubilise, as well as add a unique carbohydrate attractant that no other ant bait in Australia utilises."
"We overcame the latter two challenges by use of a top-secret unique polymer additive only found in AttractANT PRO Ant Bait Gel," continued David.
"This represents cutting edge research and development to overcome issues experienced with other products, making a totally innovative and unique product, specifically tailored to meet the needs of today's modern Australian pest management professionals."
The top secret polymer allows the addition of a unique carbohydrate lure in AttractANT PRO. This gives the bait a superior uptake, and ultimate colony elimination of nuisance ants.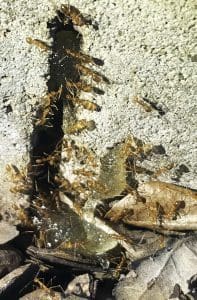 As Martin from Acacia said, "I was gobsmacked at how quickly ants fed on this new bait – literally seconds after application the ants were swarming on it. My customers were amazed!"
"The investment to bring AttractANT PRO Ant Bait Gel to the market, represents hundreds of thousands of dollars in registering new sources of active ingredient, unique formulation development & chemistry, efficacy studies in the field as well as registration costs with the APVMA," explained David, "it has taken us 5 years of research and development to get to where the product is now in pest managers' hands."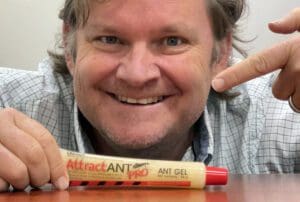 Sundew wasn't content to just develop the most advanced formulation, with the most convenient packaging for Aussie pest managers. "We took things up a notch as we know pest managers love to get great value for money," said David, "we packed AttractANT PRO in a massive 50 gram tube and priced it the same as present products in the market, so you essentially get 66% more product for free."
Every pack of AttractANT PRO Ant Bait Gel 50 grams also comes with a bonus FREE sample of the new ANTstripz to give the final professional finish when applying ant bait gels