05/12/2017 Imagine Never Having to Decant Dust Ever Again!
Two exciting new innovations from Sundew Solutions are set to change the way inseciticidal dusting is done: the StarrdustPRO DUCKBILL Duster and the StarrdustPRO 'ONE-SHOT' 400g pod.
"For as long as I can remember pest controllers have complained about how messy and time wasting decanting insecticidal dusts is," commented Mr David Priddy, CEO Sundew Solutions.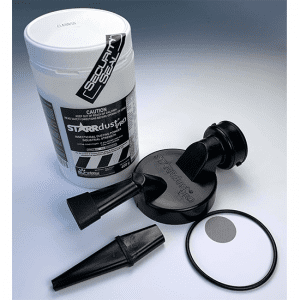 The StarrdustPRO 'ONE-SHOT' is a ready-to-use pod that screws straight onto the StarrdustPRO DUCKBILL Duster head. It is prefilled with 400 grams of premium StarrdustPRO Industrial Strength dusting powder.
"The 'ONE-SHOT' pod gives pest management professionals the ability to gently shake the pod prior to unscrewing the cap and attaching to the DUCKBILL Duster which fluffs up the dust and improves performance and enhances flowability," explained David.
"Many pesties waste unnecessary hours decanting and cleaning dust throughout the day," said David. "Pest controllers using the new 'ONE-SHOT are claiming their technicians are able to do an additional 3 or 4 jobs per week due to the time savings."
The StarrdustPRO 'ONE-SHOT' come in convenient cartons of 20 x 400 grams pods.
"The launch of the DUCKBILL Duster and 'ONE-SHOT' has been the culmination of over 2 years of development and investment working with key pest controllers across the nation," said David.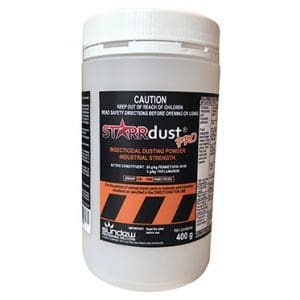 There have been 3 main drivers for the research and development into the DUCKBILL and 'ONE-SHOT' pods:
Accountability in the form of pre-dosed 'ONE-SHOT' pods,
Eliminating chemical exposure to technicians during decanting, and
Reducing the time wasted decanting and cleaning up dusts.
"In order to implement the 'ONE-SHOT' pods we needed to completely redesign a dusting head to accommodate it. The common head used in Australia is an old spray painting gun that has been retrofitted to turn into a duster," explained David. "Over the years of development we have produced over 70 prototypes while we fine-tuned the DUCKBILL Duster to what you now see."
The DUCKBILL comes packaged with a separate hose nozzle that attaches to the front of the duster so the user can apply StarrdustPRO into weepholes, cracks, crevices, or long extension conduit for hard to reach locations.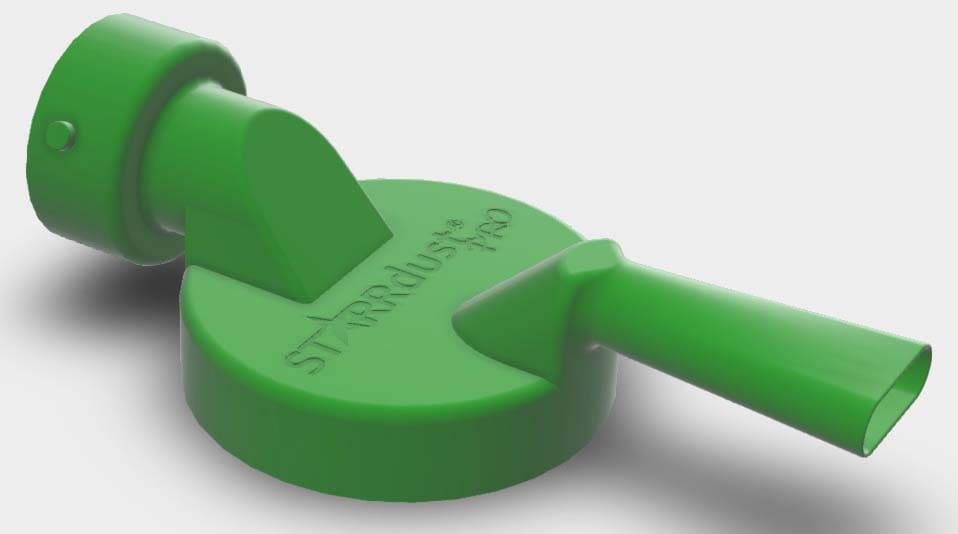 "The construction of the DUCKBILL Duster head is an inspiring story in itself," explained David. "We had the die for the injection moulding tool manufactured in Australia by an Aussie family business. The injection moulding of the units is done by a local Aussie family business. The plastic used in the construction of the single piece duster head is recycled Aussie High-Density Polyethylene – so it's tough as nails."
StarrdustPRO DUCKBILL Dusters and StarrdustPRO 'ONE-SHOT' pods are available from Agserv, Garrards, David Grays, and Globe Pest Solutions.
To view a Youtube unboxing review by Shannon Grohs from Gippsland Pest Management visit: https://youtu.be/bA5UMtkQgzA
To view a Youtube video of the DUCKBILL Duster in use visit: https://youtu.be/eKs0iHJTYao