17 Nov 2015 New Australian Innovation to Improve Sales and Reduce Costs for Pest Management Professionals
"When I first show PESTIE DOTZ® to pest management professionals there's usually a bit of laughter, but then the realisation of the potential for this new product sinks in and their ears prick up," an enthusiastic Mr David Priddy, owner of Sundew Solutions remarked.
"While conducting research with pest management professionals and end customers we realised there were a lot of issues with the way gel baits where being applied," commented David.
"The first thing we observed was that gel baits were being applied up to 8 times the recommended label rate.  When you consider 0.1 grams of a cheap gel bait costs ten cents that means seventy cents of wastage per dot application.  This might not seem like much, but when you multiply this by the number of applications per job and the number of technicians you have on the road this can quickly add up to thousands of dollars wasted per annum," explained David.
Further problems found with the way gel baits were being applied that were encountered:
Gel baits leave unsightly globs of bait.
It is difficult to identify where baits have been placed previously raising the question as to whether the baits had been consumed or have they been cleaned away by the client?
Clients inadvertently clean away treatments because they mistake them for kitchen grime.
Unprofessional perception by customers when they see brown gel stains left on their pristine white laminate kitchens.
Difficulty for the pest management professional to monitor bait consumption – have the baits been consumed or wiped away by the customer – or 'where did I apply the gel last time'?
Gel baits losing moisture into the applied surfaces rendering them less palatable and less effective
White coloured gel baits are nice, but how do you monitor or find the treatments on a repeat visit?
"This led us to work closely world class professional in the material science sector to develop a specific product to address all of these issues and come up with a patented product called PESTIE DOTZ®."
PESTIE DOTZ is a professional polymer platform onto which gel baits can be applied.  PESTIE DOTZ incorporates a technology that allows them to be attached to flat smooth surfaces without tearing or leaving any residues when removed.
"They are not a sticker.  Far from it," explains David.  "Traditional stickers are difficult to remove without leaving residues or trearing.  Our product has been tested on normal surfaces found in commercial and residential situations and can be easily removed by hand even up to 5 years after application without causing or leaving any residues on the applied surface.  Its quite amazing technology which you won't find at your local print shop.  You can actually get dirt on the back of these platforms, then wash then under tap water, dry them and then reapply them to a surface.  Try doing that with any sticker."
PESTIE DOTZ are packed with a heap of key features that make this the new standard in gel bait application:
  Constructed from a tough polymer that won't tear or leave any visible residues when removed – EVER!
  They allow quick identification of where bait placements have been made so you can quickly monitor bait consumption.
  Each PESTIE DOTZ has a 5mm indicator ring to allow you to accurately apply gel as per product label.
  The polymer construction prevents moisture loss of gel baits into the treated surface that they are applied to to help improve bait performance and longevity.
  Each PESTIE DOTZ has a fluorescent locator ring printed on it which when exposed to black light torch allows easy location in dark spaces.
  PESTIE DOTZ provides a visual indicator to pest management professionals and customers to monitor bait consumption.
  PESTIE DOTZ are a professional presentation platform onto which bait gels are applied compared to smearing gobs of brown gel throughout a customers premises.
  PESTIE DOTZ clearly designates to customers that a pest baiting treatment is in progress and that this is not kitchen waste stuck to the insides of cupboards.
"I guarantee to pest management professionals that by using PESTIE DOTZ that they can improve their sales easily," said David.  "Just think about it.  When you put PESTIE DOTZ at a clients premises you can explain to them what you are doing and for them to keep a regular check on the bait placements.  Once thirty percent of the baits have been consumed they should contact you for a service call and bait top up.  If only thirty five percent of your customers took you up on this offer you could potentially earn an additional $6,000 per annum from each of your technicians."
That's not bad for something that comes in a pack of 280 platforms and costs you less than twenty five dollars per pack.
If that doesn't make you sit up and take notice, then there's also the savings to be made by applying the correct dosage of gel.  On average it was found gel baits were being applied five times above label rate meaning that anywhere from forty to eighty cents was being wasted on each dot application.  The PESTIE DOTZ ready reckoner ring dramatically eliminates this issue from happening.
Sundew Pestie Dotz are available from Agserv, David Grays, Garrards and Globe Pest Solutions.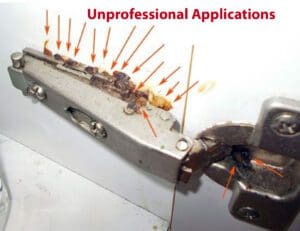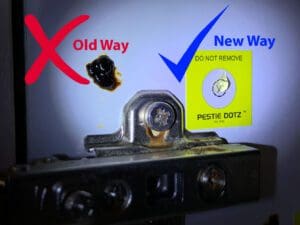 Pestie Dotz old way new way