21 May 2015 Starrdust®PRO – Leaves Others in the Dust!
"In 35 years of pest management I've never seen a dust do what this does," said Mr Neil Raw, owner of Innovative Pest Control SA, Adelaide.  "I was gobsmacked!"
"The team at Sundew Solutions asked me to take Starrdust®PRO to the worst, most difficult commercial situation I had on my books and put the product through its paces.  Don't take this to a 'soft' test site I was told."
"The moment I applied Starrdust®PRO there was an immediate response.  German roaches came flooding from within the commercial appliances I had applied the product."
"The shear flushing action of the product was astounding.  My client told me that the following day roaches were still coming out and dying.  The client named it 'magic dust'."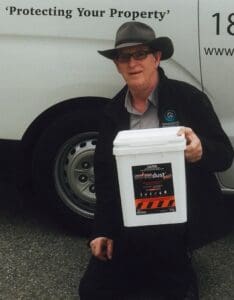 Starrdust®PRO Insecticidal Dusting Powder Industrial Strength is the latest product from Sundew Solutions, a family enterprise, 100% Australia owned and operated.  It is the world's only dual active dust incorporating an Insect Growth Regulator (IGR) triflumuron with a double strength permethrin 40:60 cis to provide up to 12 months control of pest insects.  Starrdust®PRO is revolutionary because it combines a powerful knockdown adulticide was well as a long lasting IGR larvicide.
Starrdust®PRO is formulated in Melbourne using the finest pharmaceutical grade talc for superior performance in a multitude of situations.
"When I applied Starrdust®PRO for the first time I knew it was something special," said Neil. "I'm a very keen duster and I've used a lot of dust in my time.  StarrdustPRO came out of my hand puffer in a beautiful fine mist which hung in the air for a long time.  Unlike other dusts I've used which just drop out of my puffer like concrete, this (Starrdust®PRO) is the best I've ever seen.  "
"We weren't content to just launch the best dust on the Australian market without taking things up a notch," said Mr David Priddy, owner of Sundew Solutions.  "We listened to pest managers across Australia and decided to do research into other pests to expand the label claims of Starrdust®PRO to also include millipedes, woodlice and clothes moths making this the most comprehensive dust offering on the market.  We are presently looking into a host of other pests considered important to pest managers to broaden our label even further."
"The addition of triflumuron IGR – a Chitin synthesis inhibitor really gives this product 'punch' when up against cockroaches, fleas and silverfish," explained David.  "Pesties doing tough commercial jobs will find the triflumuron lasts a long time, easily taking out pests when other products have fallen over."
"The addition of triflumuron to the double strength permethrin has the advantage of being excellent in situations where resistant populations of cockroaches are encountered," continued David.
"Starrdust®PRO uses as its second dual active a double strength permethrin 40:60 cis.  The higher ration 40:60 cis has a higher potency flushing and kill effect compared to 25:75 found in most dusts.  This gives quicker results making for very happy end customers," said David.
"Starrdust®PRO has been in development for many years and we're really proud of it.  We believe its one of the biggest game changers in pest control in many years. Unfortunately most of the dust products presently on offer are exactly the same formulation with no rotational or resistance breaking mechanism.  Starrdust®PRO is about to change all of that," concluded David.
Starrdust®PRO comes in a handy 10kg square bucket with easy access flip-top lid and will be available early June 2015.  Stocks are limited and you are advised to pre-order early from Agserv, Garrards, Globe, and David Grays.